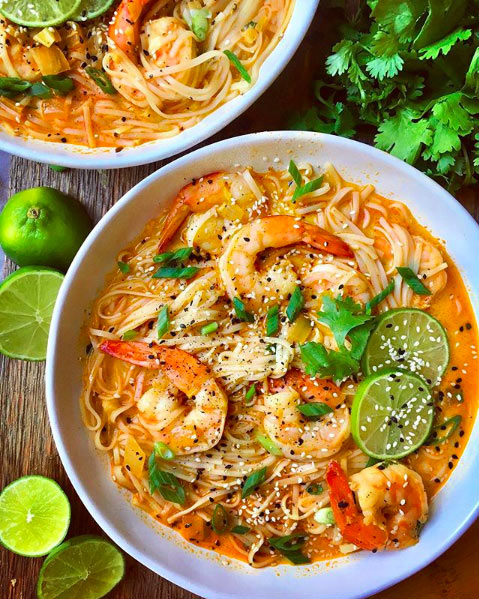 These Curry Noodles are very popular in the south region of Asia. It's very stimulus to the taste bud. After the noodles are cooked, the sauce pan is heated with a drizzle of oil, mixed with chopped garlic, diced onion, red bell pepper, ginger, coconut milk, fish sauce, red curry paste, and brown sugar.
The broth is usually chicken/shrimp/seafood based. When served, it's spiced with ground black pepper, and cilantro, basil, lime juice on the side.

More on the Curry:
Red Curry is bright and heavily spiced with dried red chilis.
Green Curry uses fresh green chilis and is from fresh cilantro root and kaffir lime leaves.
Massaman Curry is mild in heat and loaded with spices found in Indian cuisine like cinnamon and cardamom.
Yellow Curry draws on turmeric and dried curry for a rich, savory flavor and yellow color.
Panang Curry has the nutty, mellow flavor and texture of roasted peanuts ground right into the curry paste.
Take a look at these Tasty Curry Noodles in a Bowl:
(Bean-Curd based-soup, Laksa based-soup, Mango Coconut based-soup, Fried Singapore Style, Fried Thai Style, Thai Red Curry based-soup)